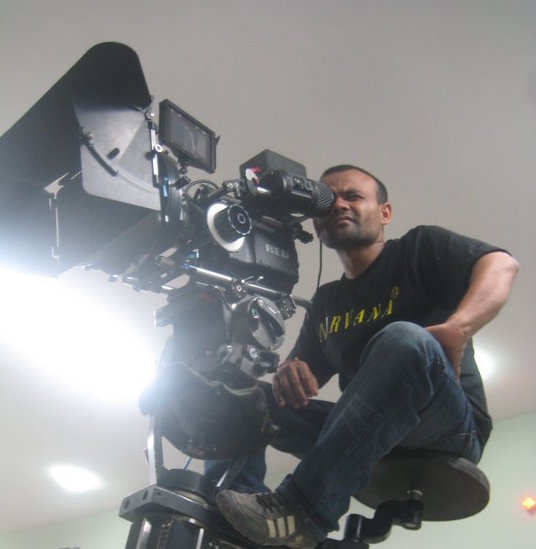 Dhirendra Shukla – Cinematographer
Wielding the camera to bring colourful cinematic experiences to audiences in India, cinematographer Dhirendra Shukla has mastered the art form. Flamboyant cinema makes for a visual experience that audiences in India and abroad crave for, by way of a release from the pressing issues they face in real life. Painting a dreamscape to thrill audiences, Dhirendra Shukla is a cinematographer par excellence, who has worked on both domestic as well as foreign collaborations.

Dhirendra Shukla completed his post graduate degree in motion picture photography from the renowned Film and Television Institute of India (FTII) Pune in 2007. His diploma film won him the Silver Bear Award in the Berlin International Film Festival and also won him a National Award in India. From here on out, his mastery with the camera has won him nominations in the PTC film awards for best cinematography, among other accolades.

Some of Dhirendra's work as associate cinematographer were on films like Black and White (2008), EMI (2008) and Tanu Weds Manu (2011). All of these films had a very different appeal and it goes on to remind us of his brilliance. His expertise as director of photography has been also credited for films like Dhobighat, Shor in the City amongst others.

He has been the director photography for Randeep Hooda starrer Laal Rang, Di-fi movie featuring the likes of Anurag Sinha, Ek tha Bhujang directed by Mohinder Pratap Singh and Baraat Company by Syed Ahmad Afzal. We cannot miss the mention of his upcoming web series Yeh Meri Family. Some of his Punjabi regional hits include Sikandar, Yoddha – The Warrier, Vaapsi, Rabba Rabba Mi Varsha and 25 Kille.

After watching the above mentioned work, it is easy to be convinced about his exceptional skills. He has tried his hand on varied movies of different classes and genres. And he has done justice to each one of them. He keeps looking for newer avenues to show his creative prowess and gives his very best on the most challenging projects.

Dhirendra Shukla currently works as a cinematographer for Feature Films, TV commercials, Web series and Documentaries. He lives and works in Mumbai, India and is constantly on the lookout for interesting masterpieces that he can capture on film.

We are proud to have him as part of the Pictures Unfold team. Dhirendra Shukla has created magic each and every time he has put his hands on any project and working with him is embracing excellence.
Dhirendra Shukla's Social Profiles